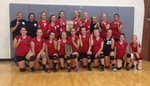 San Juan League Volleyball Champions
Congratulations to our A & B volleyball teams!!!
Each won their respective league championship this year.
The A team finished the year undefeated with a record of 13-0 and captured the league championship for the 3rd consequtive year!
The B team finished the year with a record of 11-2 and also capture the league championship!
GREAT WORK LADIES!!!
GO JAGS!!!